BICOR Technologies brings a wealth of tablet compression experience, technical service expertise, and a local OEM spare parts inventory to support KORSCH's growing presence in Mexico.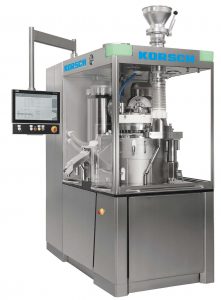 Berlin, Germany – KORSCH AG – the global leader in tablet press technology, offering solutions for product development, scale-up, high-speed production, multi-layer, mini-tablet, and WIP/high-containment applications – has appointed Bicor Technologies SA de CV as its Exclusive Sales and Service Partner in Mexico.
BICOR Technologies has extensive experience with tablet compression equipment, and will offer the full line of KORSCH machines. From a service and maintenance standpoint, Bicor Technologies employs local service engineers with full KORSCH factory training, and features a KORSCH OEM spare parts inventory warehouse located in Mexico City.
"KORSCH is confident that our partnership with Bicor Technologies will leverage our combined expertise in tablet compression technology, and ensure that KORSCH customers in Mexico receive world-class technical support and expedient access to KORSCH OEM spare parts," said Frederick Murray, Director of Sales for KORSCH AG.